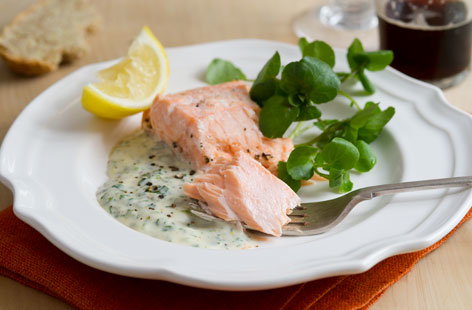 This is a wonderful recipe but of course you do not have to buy a whole salmon, you can always adapt this recipe and buy ready filleted salmon pieces - the choice is yours. You may also like to enjoy this meal with a chilled glass of white wine - how about a Chablis?
Ingredients:

Serves 10 - a truly wonderful and low carb family get together meal.

2.5kg (5lb) whole salmon, scaled and gutted, your fishmonger will do this
oil for greasing
1 onion, sliced
1 lemon, sliced
2 bay leaves
100ml (3 1/2fl.oz) dry white wine
sliced cucumber, to serve
sliced lemons, to serve

For the mayonnaise:

85g bag watercress
2 egg yolks
1tsp Dijon mustard
300ml (1/2pint) sunflower oil
1tbsp white wine vinegar
squeeze lemon juice

Method:

Preheat the oven to Gas Mark 2/170°C/Fan 150°C.

Place the salmon on a large sheet of greased tin foil. Set this in a large baking tray. Place the onion, lemon and bay leaves inside the cavity, scattering any extras around the fish, and season. Then drizzle over the white wine.

Bring the foil up and over the salmon to loosely seal (you may have to use another sheet of foil). Cook in the oven for 1 hr. Then leave to cool.

Meanwhile place the watercress in a sieve and pour over a kettle-full of boiling water. Squeeze away excess water and leave to cool completely.

Place the egg yolks in a food processor with the mustard and whiz together. Then slowly start to mix in the oil, just 1 drop at a time to start with, gradually adding a little more.

Add the watercress and vinegar and whiz until smooth. Then season and add the lemon juice to taste.

To serve, carefully lift the fish onto a serving platter. Remove the head. Then carefully peel away the skin from the serving side of the fish and ease away the dark flesh running along the backbone with a teaspoon.

Arrange the lemon and cucumber around along with the mayonnaise in a bowl.

To serve, cut away chunky portions of the top side of fish. Then remove the flavourings from the cavity along with the bones. Portion out the bottom side of fish, easing it away from the skin which can be left behind.
Make sure all the family are gathered and enjoy good company and great low carb food.
Original recipe idea

here.