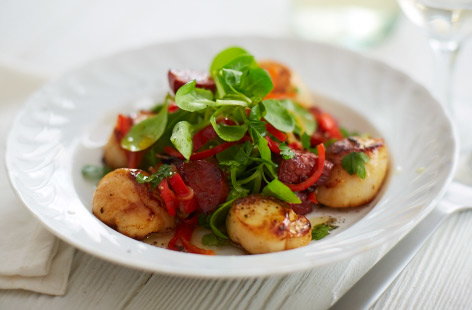 We do enjoy scallops, but they can be quite expensive ... However once in a while we do include them in our LCHF menu plans. When we lived near Mudeford Quay, in Dorset we regularly visited the fresh fish stall to buy our scallops. If you are down that way, I can recommend it. It's a lovely place to visit. Walk along and take in the sights and sounds, see the local fishing boats, have a ferry boat ride over to Mudeford Sandbank - take time to spend a relaxing day. Of course you can get scallops in your local fish-monger or supermarket and the recipe below is well worth going out .. getting the ingredients and doing a little cooking, about 2/3 minutes to prepare and 8 minutes to cook.
Ingredients:
Serves 4
20 scallops from fish counter (or you can use frozen or pre packet)
3tbsp olive oil
225g chorizo ring, skin removed and cut into 1cm chunks
4 peppers, seeds removed and cut into thin strips
2 shallots, peeled and cut into thin rings
31g flat leaf parsley, finely chopped
120g of fresh and naked lambs lettuce
Method:
1. Heat 2 tbsp of the oil into a frying pan to medium, add the peppers and shallots cooking for 5 mins until softened, now add the chorizo for another 2 mins, stirring all the time. Remove the pan from the heat and set aside whilst you cook the scallops. Gently pat any excess moisture from the scallops with kitchen paper, season both sides of the scallops with salt and pepper.

2. Heat 1 tbsp of olive oil in a non stick frying on a high temperature. Now place the scallops into the pan, you want to hear an instant sizzle, don't be tempted to move the scallops leave them to cook for 1 minute, then turn them over one by one, they should have a nice caramel colour on the cooked side. After a further minute remove scallops from the pan.

3. Arrange the scallops onto each plate, now mix the warm pepper salad with the lambs lettuce serve this with the scallops, drizzle the oil that is left in the pepper pan over your scallops followed by some chopped parsley.
Original recipe idea here
Mudeford Quay, Dorset - Well Worth A Visit