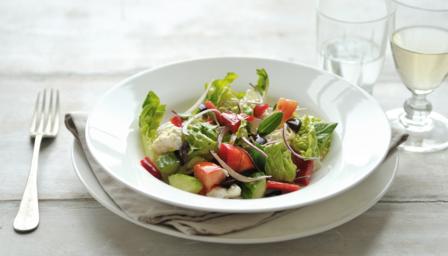 Transport yourself to Greece with a classic salad of fresh, crisp summer vegetables and tangy feta.

Ingredients:
Serves Four
50g/2oz black Kalamata olives
3 medium tomatoes, diced into 2cm/¾in cubes
1 cucumber peeled, diced into 2cm/¾in cubes
1 red pepper, de-seeded, diced
½ red onion, sliced finely
100ml/3fl oz extra virgin olive oil
150g/5oz feta cheese, diced
1 small, firm cos lettuce, chopped into rough cubes length-ways
1 generous sprig of oregano (or 2 tsp dried oregano)
50ml/3 tbsp red wine vinegar

Preparation method:
1. Mix all the ingredients in a bowl.
Original recipe idea here