Food company backs down after health campaigners lodge complaint with advertising watchdog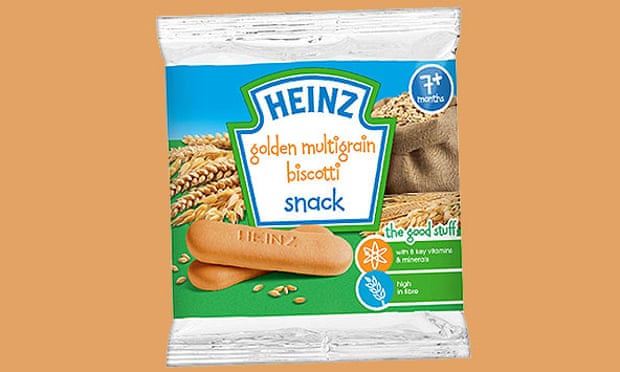 Heinz has agreed to stop marketing a range of sugary baby biscuits as healthy snacks following a complaint lodged with the advertising watchdog by health campaigners.
On its Heinz for Baby website, the company described the chocolate and organic varieties of its golden multigrain biscotti as "an ideal healthy snack for babies 7+ months old".
But campaigners argued that using a healthy advertising strategy for products with such high sugar content – the biscuits ranged from 24g to 28g per 100g – encouraged or condoned poor nutritional habits, excessive consumption and an unhealthy lifestyle in children.
The Advertising Standards Authority said the case was informally resolved, meaning it did not launch a full investigation, because Heinz did not challenge the Children's Food Campaign's case and immediately agreed to stop advertising the range as healthy.
"We approached HJ Heinz with the concerns that had been raised about its ads," said a spokesman for the ASA. "It agreed to remove references to the products being 'healthy snacks' or 'snacks' from its advertising and to remove or to amend health claims. On that basis we resolved the case informally".
Heinz has amended its website, referring to the biscotti instead as "finger foods" for babies and "little nibbles to keep them going".
Malcolm Clark, the co-ordinator of the Children's Food Campaign, said: "Heinz has disregarded NHS advice on nutrition and snacking for under-ones as well as the advertising rules themselves. So it was no surprise that when we asked the Advertising Standards Authority to investigate, Heinz backed down and agreed to change its wording."
The NHS's advice for parents on nutrition for under-ones clearly states: "It's best not to give them [babies] foods or drinks with added sugar, or salty or fatty food either, as this will make them more likely to want them as they get older."
A spokesman for Heinz said: "Heinz takes its responsibilities as an advertiser very seriously. As soon as we were made aware that certain elements of our website copy may not have met the high standards we demand, we took immediate action to make changes. The matter was resolved to the satisfaction of the ASA."
But Clark warned that there was "little cause to celebrate yet, as Heinz's changes are merely cosmetic. They are now simply using different wording to imply it is OK to give the sugary biscotti to babies in between meals … Moreover, Heinz has announced no measures to reduce the actual sugar content in their biscotti."
The Children's Food Campaign comes under the umbrella of the Sustain charity, which is backing the high-profile drive by chef Jamie Oliver to introduce a tax on sugary drinks to raise funds for the campaign to fight the national obesity epidemic.
http://www.theguardian.com/
Graham